Documents Checklist for Thailand Visa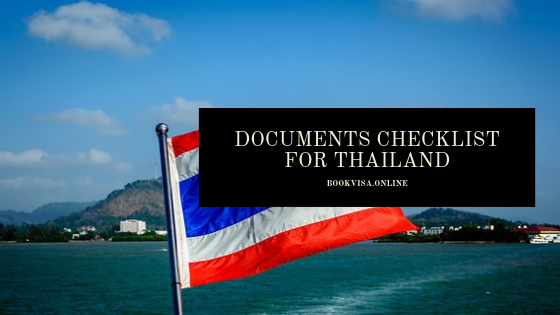 Documents checklist for Thailand
Mandatory Requirements: Passport:
So original Passport with the validity of minimum six months and minimum two blank pages for visa stamping.
Please Note: a) So attach all old passports (if any).
b) So evidence of permanent residence in India(non- Indian passport holder).
Personal Cover Letter:
So covering-Letter from applicant stating his name, designation, passport number, purpose & duration of visit and to be duly sign from the applicant and address to – The Visa Officer,The Royal Thai Embassy, New Delhi.
If applying from Kolkata: The letter should be address to "Consulate General of Thailand,Kolkata"
Additionally Note : Covering-letter on letterhead if applicant is Self Employed or on plain paper if Employed.
Bank Statements:
a) So original Bank Passbook or Bank statement(six months)(must be attested by the bank) having a minimum balance equivalent to $700
b) So the evidence of occupation and of the monthly income. Such as : Income Tax Returns, Pay slips, letter from employer certifying employment, Employee ID, Student ID, Business license.
Please Note :
a) So proof of funds must cover all expenses including accommodation.
In case of Incentive Tour : A cover letter from both company and travel agency stating all names with passport numbers, plan of travel and place(s) to stay, and company's bank statement attested by the banks, company's business registration,
Processing Time – 5 working days Please
Note :
a) So if there is any further verification required on the submitted documents there will be a further delay in the above mentioned processing time.
b) So the travel date should be minimum seven working days from the date of submission at Thailand visa application centre.
Visa Application Form:
So one Visa application form to be duly fill and sign from the applicant.
Photo Dimension:
Two recent passport size photographs with matt or semi matt finish, 60%-80% face coverage, white background and without border (Size: 35 mm x 45 mm)
Please note: Photograph should not be more than 3 months old and should not be used in any of the previous visas.
Ticket : Confirmed air tickets in and out of Thailand.
Hotel Vouchers: So evidence of confirmed hotel/accommodation reservation in Thailand with address and contact number under applicant's name. If travel in group, must provide a cover letter stating all names with passport numbers, plan of travel, and place(s) to stay
Please Note:
a) So if intend to stay with Thai relatives or Thai friends, must provide invitation letter along with a copy of their Thai ID proof. So in case they are not Thai, must provide their copies of visa and work permit, valid at least six months along with a copy of passport.
Details or Guarantor :
a) So name and address of local guarantor : must provide name, address, telephone number, and fax numbers of travel agent.In case of individuals, must provide name, address ,telephone number and fax numbers of parents, relatives, or friends in India.
b) So name and address of guarantor in Thailand : must provide name, address , telephone number, and fax numbers of the partnered travel agent/ company or group/ personal tour-guide in Thailand.
Additionally this is the complete documents checklist for Thailand. So you can also visit our you tube channel BOOKRUMZ. But if you want to know about activities in any country please click here.