Documents Checklist for UK Visa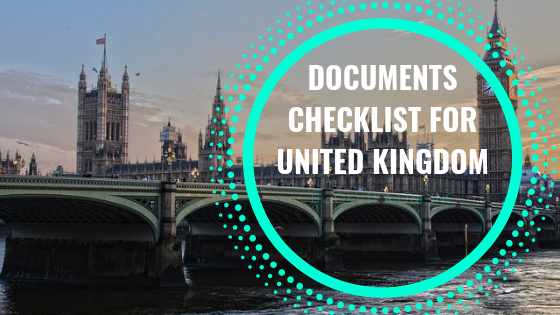 Documents checklist for United Kingdom
Mandatory Requirements:
Passport: So original Passport with validity of minimum six months and minimum two blank page (back to back) for visa stamp.
a) So attach all Previous passport to show previous travel history.

UK Visa Application Form: Visa application form has to be fill online from the applicant.

Photo Dimension: So two recent passport size photographs with matt finish, 60%-80% face coverage, white background and without border (Size: 35 mm x 45 mm)
Please note: Photograph should not be more than 3 months old and should not be used in any of the previous visas.
Accommodation : Hotel confirmation
Flight Reservation : Ticket Itinerary
Applicant will have to personally collect their documents or can opt for courier service at the time they submit their documents at VFS.
Applicants can submit an authorisation letter only in the following cases:
a) If a parent collecting for a dependent child;
b) A member of a family group collecting the passports for the whole family;
c) Government Ministry representatives and a Business Express Programme (BEP) company representative, approved by the company's authorized signatories.
Please Note:
a) So applications are being accepted through online appointment, we advise you to send your application well in advance so that we can arrange for an appointment.

b) So applications are accepted through respective outsourced visa application centres. Kindly refer to the link "Outsourced Visa Application Centres" on the left side of the page for details.

c) So fingerprints and facial photograph (known as 'bio metric information') are required by the UK Border Agency as part of your application for a UK visa in India. Personal appearance as per the appointment is therefore mandatory.
Personal Cover Letter: So Covering-Letter from applicant on business letter head mentioning name, designation,passport number, purpose and duration of visit in brief. So the letter should be duly sign from the authorised signatory with company stamp and address to – The Visa Officer,British High Commission, New Delhi
Additionally Note : Covering-Letter on Letterhead if applicant is a Self Employee or on plain paper if he is a Employee.
Bank Statements:
a) So personal ITR for 3 yrs.
b) So Six months salary slip
c) So original Personal Bank Statement for last six months mentioning the Bank's name, Bank's Telephone Number clearly
d) So foreign Exchange endorsement/Copy of Credit Card.
Proof of Employment:
Self Employed:
a) So company Registration Certificate / Certificate of Incorporation
b) So brief Company Profile
c) So articles of Memorandum (In case the applicant is MD/Director)
d) So proof of Proprietorship / Partnership (In case applicant is Proprietor / Partner in a firm
e) So balance sheet of the Company.
Employed:
a) So proof of employment like Salary Slip or Appointment Letter
b) So NOC from Employer
Student:
a) So a leave Sanction Letter from school
b) So parents have to provide ITR, Bank statement and NOC letter.
British Irish Visa Scheme: Indian citizens can now apply for one travel permit to visit both the UK and Ireland through British-Irish Visa Scheme (BIVS) in India. As per BIVS, applicants should apply for the visa of the country they wish to visit first. So if you have an Irish short stay visa and you also want to visit the United Kingdom you must travel to Ireland first. So if you have a British short stay visa and you also want to visit Ireland you must travel to the United Kingdom first. The BIVS issued visas will have BIVS coding endorsed on it. For more information kindly click on the following link BIVS Scheme.
Additionally this is the complete documents checklist for United Kingdom. So you can also visit our you tube channel BOOKRUMZ. But if you want to know about activities in any country please click here.