Documents Checklist For New Zealand Visa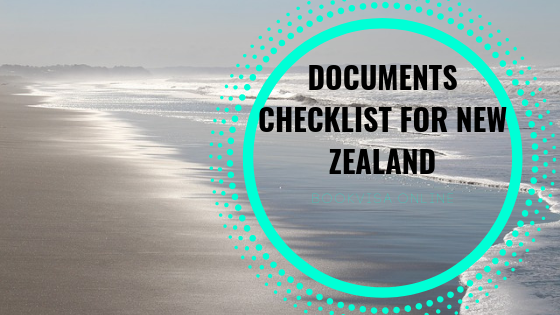 Mandatory Documents:
Passport: So original Passport with validity of minimum six months and minimum two blank page for visa stamp.
a) So copy of visas being travelled previously.
b) So copy of first and last page of the passport.
c) So attach all your old passports (if any)
Note: But handwritten passports will not be acceptable.
Photo Dimension: So two recent passport size photographs with matt or semi matt finish, 60%-80% face coverage, white background and without border (Size: 35 mm x 45 mm)
Please note: Photograph should not be more than 3 months old and should not be used in any of the previous visas.
Visiting Family/Friends:
So original Sponsoring Form, completed by your sponsor in New Zealand, along with evidence your sponsor has supplied of their ability to support you while you are in New Zealand.

If Visiting for Honeymoon: Following documents has to be submitted along with the visa application.
a) So NOC letter from parents.
b) So original wedding card.
c) So original engagement photos (5-10 in number).
Proof of Employment :For First Time Traveller (Following documents apart from the above mentioned documents need to be submitted along with the application)
If Self Employed
a) Company Registration Certificate / Certificate of Incorporation
b) So brief Company Profile
c) So articles of Memorandum (In case the applicant is MD/Director)
d) So proof of Proprietorship / Partnership (In case applicant is Proprietor / Partner in a firm)
e) So import / Export License (if applicable)
If Employed
a) So copy of Academic certificates
b) So copy of Appointment Letter which should contain the date of Joining, Designation and the Salary drawn.
c) So previous working history
Accommodation: Hotel Confirmation, Tour itinerary and Tour Confirmation
Flight Reservation : Ticket Itinerary
Authority Letter: So an Authority Letter from applicant authorising Bookrumz to submit & collect the passport on your behalf and mentioning that Bookrumz has no interference in making the documents arranged & we are not interpreting any of the Immigration requirements. Also, that all the documents have been arranged by you considering the TT services website/ New Zealand immigration website. The letter should be addressed to the Embassy.
Note: So all documents are required to be notarised or certified photocopies. These documents include Bank statement, birth or marriage certificates, education certificates etc.

New Zealand Visa Form:
So one visa application form duly fill and sign.
Following form also need to be duly fill, sign and submit along with the application
a) So supplementary Family Form
b)Form 1189 (If Applicant is travelling less than six months and trip is self/company sponsored)
c) So form 1025(If Sponsor from New Zealand citizen).
Personal Cover Letter:
Covering-Letter from applicant on business letter head mentioning name, designation,passport number, purpose and duration of visit in brief. So the letter should be duly sign from the authorised signatory with company stamp and addressed to – The Visa Officer,Immigration New Zealand, New Delhi.
Please Note : Covering-Letter on Letterhead if applicant is Self Employed or on plain paper if Employed .
Bank Statements:
If Employed
a) So personal ITR for last 3 yrs
b) So three months salary slip
c) So personal Bank Statement for last six months mentioning the Bank's name, Bank's Telephone Number clearly
d) So Credit Card copy/Foreign Exchange endorsement/Traveller's Cheque
e) So original NOC from company
If Self Employed
a) So personal & Company ITR for last 3 yrs
b) So personal & Company Bank Statement for last six months mentioning the Bank's name, Bank's Telephone Number clearly
c) So Credit Card copy/Foreign Exchange endorsement/Traveller's Cheque.
Applying for a Student:
a) So a leave Sanction Letter, School ID Card and NOC from school mentioning the dates of trip
If you are under 18, you must also submit
a) So if you are travelling alone – A consent letter signed by both parents in support of the visit.
For Individuals travelling alone
a) A Consent letter in support of visit from spouse.
Additionally this is the complete documents checklist for New Zealand. So you can also visit our you tube channel BOOKRUMZ. But if you want to know about activities in any country please click here.